Razor EDGE
Razor EDGE comes equipped with all our reliable Razor components, plus an intense customer experience. Featuring all new elements: HyperFlex, SpectraRay and LumenArch.
Razor and Razor XR-7
combines the great features you've come to expect from Washworld with flexible options for a low-cost, customized car wash. Razor XR-7 is loaded with features like triple pass technology for front and rear cleaning, belt drive technology, Energy Chain, Virtual Attendant and VS2 Vehicle Sizing System. With a wide range of options available, Razor XR-7 is the complete package.
Washworld's best-selling Razor earns the reputation of a proven system for its quality, dependability and longevity. With an emphasis on simplicity of use, reduced maintenance and stainless steel throughout, Razor is built to last.
STAINLESS STEEL
Without a doubt, stainless steel is the most durable material in car wash construction. Stainless steel (inox steel) provides natural corrosion resistance through a thin protective outer layer on the metal?s surface, called chromium oxide. Chromium oxide coats stainless steel, protecting it from corrosion (rusting), making it the perfect material in a wet car wash environment. When other manufacturers are using cheaper, less durable materials, Washworld refuses to compromise on quality and uses stainless steel throughout.
ADVANCED DRIVE MOTION TECHNOLOGY
Razor's belt drive utilizes multiple variable frequency drive technology with a clean and simple design. Radial motion provides a smooth, precise application of all solutions and water. What does this mean for you? Fewer moving components, less weight, reduced maintenance and a quicker return on investment!
ENERGY CHAIN
Razor's revolutionary cable carrier protects moving cables and hoses from abrasion and entanglement. Energy Chain also provides controlled bend radius of cables and hoses to prevent pinching or kinking. Energy Chain?s non-metallic construction ensures quiet performance, longer cable life, and extended supply line life.
QUICKER RETURN ON INVESTMENT
Energy-efficient motors save on operating costs, sealed gearboxes eliminate the need for oil changes, and reduced rolling resistance results in improved efficiency. No wasted product, reduced water consumption, increase throughput, and lower operating costs all add up to a higher and faster return on your car wash investment.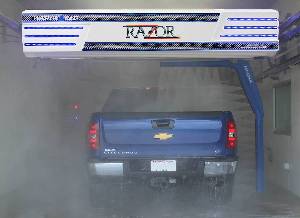 Razor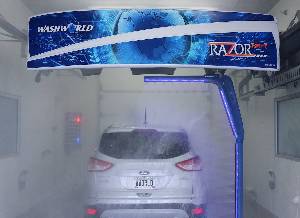 Razor XR-7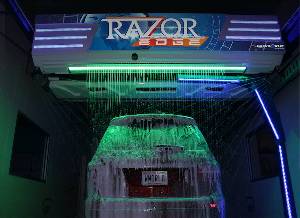 Razor Edge